York is one of England's oldest cities. It was founded by the Romans in 71 AD and became known as Eboracum. After four centuries of rule the Romans finally departed leaving it to become occupied by the Angles. In 866 AD, Viking invaders captured the city and renamed it Jorvik. By the middle ages the city had grown considerably, due mainly to its profits from the woollen trade. It also became a place of religious importance with its impressive gothic cathedral known as York Minster. Today the city remains a popular tourist destination attracting visitors from around the world who come to visit the many sites of historical interest.
The old part of the city sits snugly contained within ancient stone walls. Walk around them and you will be able to peer across the jumbled terracotta rooftops. Walk through its heart and you will enter the narrow streets and passages known locally as 'snickleways'. Each
one has a tale to tell or, moreover, a ghostly tale, as York is reputed to be the most haunted city in all of England, playing host to over 500 ghosts.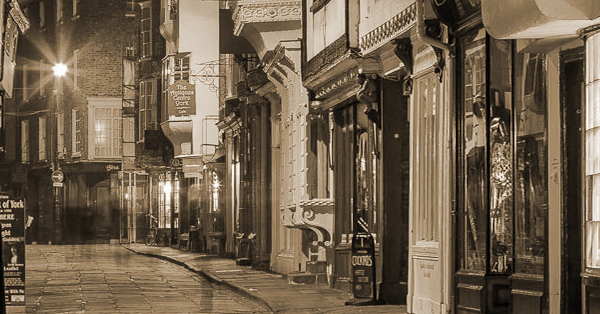 The avid ghost hunter might therefore find themselves in a bit of a quandary in not to knowing quite where to begin. For as night envelopes the city, and as the daytime crowds disperse, spectres seem to drift down virtually every dimly lit street or snickleway.
One of the best, and long-established ghost walks, begins at the end of the Shambles, one of England's most famous medieval streets. This narrow, cobbled passage, with its overhanging timber framed buildings, is the atmospheric starting point for the Ghost Hunt of York.
The walk was founded some two decades ago by Andy Dextrous, a former street entertainer. As the rusty clang of his hand bell is heard,
Andy cuts a sinister figure dressed in Victorian garb. He seems almost to materialise from the mists of time to meander gloomily down the cobbled street to greet the waiting crowd. Don't be put off by Andy's initial menacing demeanour; it's all part of the act. His deadpan humour soon begins to seep through this seemingly solemn veneer as jokes accompany screams in equal measure.
The walk takes in many fascinating places of interest along the way. Having squeezed through Coffee Yard – remember to duck as you enter – the first official stop is Stonegate; one of the city's oldest and most attractive streets and the tale of a ghostly child that haunts one of its ancient buildings.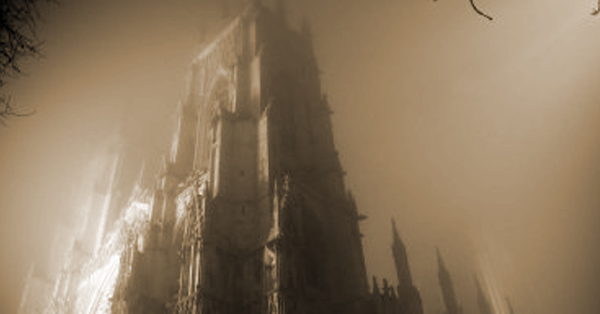 Next stop is beside a Roman column to the south side of the magnificent York Minster. Prepare yourself for some ghoulish trickery at this point before moving on to the Treasurer's House,
which boasts one York's most famous and fascinating accounts of paranormal phenomena. It was here, in the early 1950's, that a plumber's apprentice, named Harry Martindale, witnessed the emergence of several bedraggled looking Roman soldiers from within the cellar wall.
From this point on the walk heads towards the area known as Bedern. This area was once a dingy slum where stood the York Industrial Ragged School. It was inside this sinister dwelling that a cruel workhouse master administered brutally beatings. Many children died as a result of these onslaughts. Locals have frequently reported the ghostly sounds of children playing in the street at night. However, before you enter Bedern, through the gloomy entrance of Bartle Garth, be ready for a little high jinx as your ghostly guide puts the crowd up to some practical jokes on unsuspecting customers seated inside Caesar's Restaurant.
The Ghost Hunt of York is a masterful, accomplished and well-honed
walk, featuring many of the city's most famous ghost stories. The stories are all told with excellent timing by Andy or one of his equally talented actor/storytellers.

Details for the Ghost Hunt of York
Website: http://www.ghosthunt.co.uk/
If you've enjoyed our ghostly tale then please share it, and if you have something to add or say, then please leave a comment...
comments