Ghost Walkers
THE GHOST WALKERS
Rob Marks – Silas
[wpcol_1half id="" class="" style=""]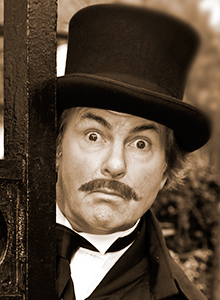 [/wpcol_1half][wpcol_1half_end id="" class="" style=""]Rob has a long-established history of producing, and performing in ghost walks and ghost shows in both York and Brighton. His career as an entertainer was nurtured whilst working in Theatre-in Education at the Cockpit Theatre in Marylebone, London. He is also a qualified teacher of English, Drama and Theatre Studies, and has taught in schools, arts centres and adult education, alongside running many independent courses. Rob has recently become actively involved with the British Engineerium Museum in the guise of the eminent Victorian engineer, Thomas Hawksley, entertaining and giving guided tours to visitors. His book, The Ghosts of Brighton's Lanes, is available from SB Publications.
Watch his showreel can be viewed on YouTube
HERE
[/wpcol_1half_end]
Julian Clapp – Ebenezer
[wpcol_1half id="" class="" style=""]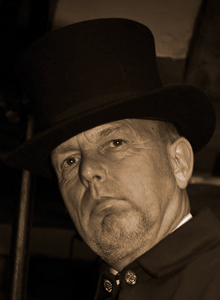 [/wpcol_1half][wpcol_1half_end id="" class="" style=""]Julian is Brightonian with an astute knowledge of local history. Alongside performing on the Ghost Walk of the Lanes he runs several of his own Brighton walks. These include the historical 'Brighton Story' tour and the 'Brighton Rock Walk', which visits locations from the 1947 film of the same name. Julian is extremely personable and infuses his ghostly tales with a devilish sense of humour.[/wpcol_1half_end]
Andrew Allen – Jasper
[wpcol_1half id="" class="" style=""]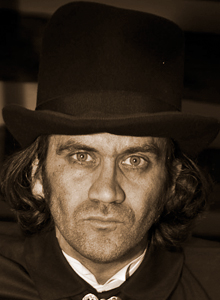 [/wpcol_1half][wpcol_1half_end id="" class="" style=""]Andrew is an actor, writer and director. He received the award for Best Actor from the Brighton & Hove Drama Awards for his role as Yvan in 'Art', and has adapted and directed 'The Snow Queen' for the New Venture Theatre. He runs weekly improvisation classes (IronClad Improv) at the DukeBox Theatre, and is founder and curator of Cast Iron Theatre, which produces six new plays, four times a year. He directed an open-air, promenade production of Twelfth Night with PQA, and is a reviewer for various websites and magazines.
His website can be found here: 
http://thisisandrewallen.weebly.com/
[/wpcol_1half_end]
For more information
Email: robmarksbrighton@gmail.com
Tel: 01273-328297 or 0752-260-5524.