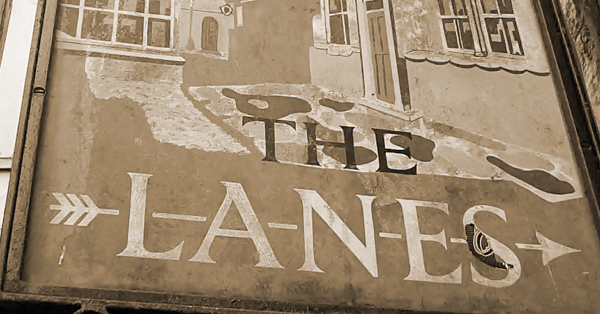 BRIGHTON – Ghost Walk of the Lanes
Brighton has often been referred to as London-by-the-Sea, owing to its vibrant and bustling ambience. The town grew in popularity due the patronage of the Prince Regent, George Prince of Wales; later George IV. The upper classes became drawn to the town and it soon became a fashionable resort. One Dr. Richard Russell advocated that bathing in the sea, and even drinking sea water, would offer health benefits. Bathing machines soon appeared along the cobbled shoreline providing modesty for its bathers who had taken to 'dipping'.
The town soon came to boast some fine Regency architecture; firstly, in Kemptown and later East Brunswick. It was not long before the Prince Regent, or 'Prinny' as he was affectionately known, began wielding his own eccentric indulgences by commissioning the exotic Royal Pavilion. This incongruent architectural oddity, resembling an Indian palace, was built in stages between 1787 and 1823. Queen Victoria inherited the place, but hated it, due mainly to its lack of
privacy. With the coming of the railway in 1841, hordes of Londoners had begun flocking to the town, and the queen subsequently vacated to the tranquillity of Osborne House on the Isle of Wight as her summer retreat.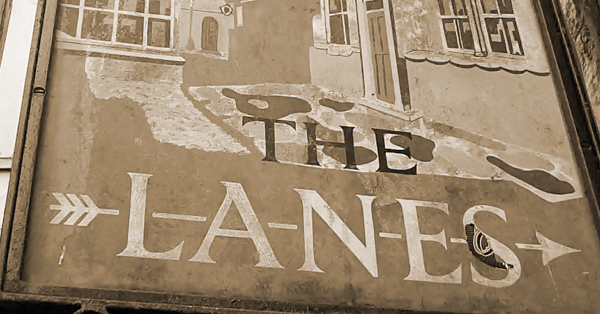 Brighton's oldest quarter is the area of as 'The Lanes'; once the original settlement of Brighthelmstone. This lively area is labyrinth of winding streets and narrow passageways, known locally as 'twittens'. This area is considered to be the most haunted part of the city, where hardly a street or lane does not have a spectral connection. It is, therefore, hardly surprising to find a popular and much acclaimed ghost walk operating there.
The Ghost Walk of the Lanes begins from one of Brighton's oldest taverns, the Druid's Head; its cellars are thought to date from as early as 1610. There have been over one hundred instances of poltergeist activity reported there. Bottles have been seen to shift about on
shelves and glasses move, unaided, along the bar top.
This Ghost Walk of the Lanes is a performance-based walk, with a strong emphasis on street theatre, taking in eight haunted sites in and around a relatively small area. The tales are well-structured and based on long-established accounts of paranormal goings on. Actor/storytellers include Silas, Jasper and Ebenezer; all elegantly attired in statutory Victorian costume and equipped with a Gladstone bag, packed with ghoulish and humorous surprises. Stories are performed with panache and juxtapose dramatic tension with good humour in equal measure.
On leaving the Druid's Head, and following a light-hearted introduction, the first stop is Brighton Old Town Hall; said to house two separate apparitions. These include the faceless spirit of a monk, chastised for drinking copious amounts of communion wine and then banished for his indiscretion. However, its most famous recorded ghost is that of a Chief Officer of Police brutally murdered in the basement area that once housed Brighton's constabulary.
A short hop from the Town Hall is the Old Steine; once an area of common land used by the fishing folk of the town. It is also an area where is said to lurk the hideous spectre of John Robinson, a one-time adventurer who bore a striking resemblance to that dashing character of English fiction, the Scarlet Pimpernel. His grotesque spirit has been seen to raise its horrifically mutilated face there many times down the centuries.
The next port of call is Dr. Brighton's, formerly the Star & Garter Hotel, dating from 1750, and the site of some extremely unnerving poltergeist activity. Many distinguished guests once stayed there, including Jack Dempsey, Richard Burton, Charlie Chaplin and Sir Winston Churchill.
From this point on the walk leads directly into the heart of the Lanes, and down some eerie and atmospheric little passages including, Black Lion Lane and Meeting House Lane. In the latter one might witness the forlorn spectre of a wandering nun, whose troubled spirit has
been seen to pass through a bricked up doorway. Other restless spirits on the walk include an amorous apparition and the mischievous, but friendly, spirit of an old fisherman in a bar named Northern Lights. Customers are invited to take a short break and partake of the house speciality, a little nipperkin known as 'Fisherman's friend', at just £1 a tipple.
One of the more intriguing claims on the walk is the spirit of that is meant to haunt the town's oldest tavern. The Cricketers in Black Lion Street. The pub dates from 1547 and has been frequented by many celebrities down the years. It is also where the author, Graham Greene, was said to write much of his famous crime novel 'Brighton Rock'. Robert D'Onston Stephenson, the man widely believed to have been Jack the Ripper, was particularly fond of the pub and lived there in 1888. His spirit is still meant to haunt the building.
Silas, Jasper and Ebenezer are all long-established actor/storytellers with experience in stand-up comedy, theatre-in-education, ghost shows/ walks and guided tours. All the tales are tightly structured and not overly long. The locations and backdrops are good, and particularly atmospheric in and around the heart of the old Lanes. The tales are drawn from well-documented accounts and embrace many aspects of local historical interest; all peppered with comic respite.

If you've enjoyed our ghostly tale then please share it, and if you have something to add or say, then please leave a comment...
comments