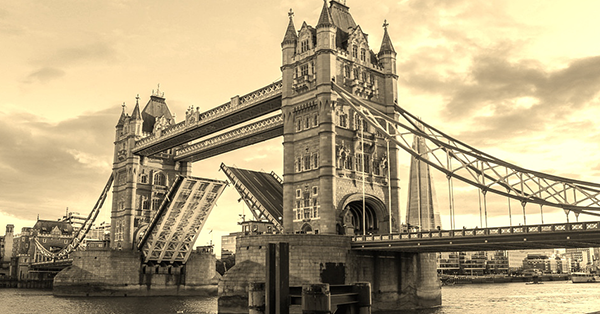 TOWER BRIDGE PHANTOMS
Tower Bridge is possibly one of the most iconic sights in London. It was built in 1894 in a style designed to sit comfortably alongside the Tower of London. It is what is known as a bascule bridge, which means the span lifts to allow tall ships and yachts through headed for the port of London. River traffic takes priority of road traffic and vehicles have to wait when a boat comes through.
The two high towers are suspended by wires by land and linked by a high level walkway. The bridge was designed in such a way to allow pedestrians to cross when the bridge was open. It is often confused with London Bridge, which is the next one up stream.
The old London Bridge was dismantled in 1967 and relocated to Arizona. It is a popular rumour that the bridge was bought in the belief that it was London's more recognizable Tower Bridge.
The bridge has featured as an imposing backdrop for numerous films down the years, most recently, Mission Impossible, Tomb Raider, Thunderbirds, The Mummy Returns and Bridget Jones amongst others. However, this imposing structure has a dark side to its history. One of the bases of the towers was once used as a morgue. Bodies were brought by boat and stored there. This area is now obsolete and visitors are not allowed to enter.
One would probably not wish to either as many of those visiting the bridge have spoken of some particularly unnerving experiences. One area has been along the walkways where many of those working on the bridge, during its construction, fell to their deaths. Those visiting this area have frequently experienced the manifestation of strange shadowy figures. Others have complained of things tugging at their clothes. Some have even been halted in their tracks by the feeling of an oppressive weight bearing down on them.
Quite recently a young woman visiting the tower had some intensely unsettling experiences while in the lower part of the building. She claimed to have sensed the presence of a very angry spirit that had began shouting in her face. She also claimed that this boisterous apparition had tried to push her out of the room. She fled to another room but claimed the thing had followed her and began trying to trip her up. The young woman was so overcome by her experiences, and feelings of nausea, that she fled from the building altogether.
Should you wish to put yourself to the test and see if you are one of the more attuned to the paranormal, then tours of London Bridge run daily from ten o' clock in the morning until five o' clock in the afternoon. Don't say I didn't warn you!

If you've enjoyed our ghostly tale then please share it, and if you have something to add or say, then please leave a comment...
comments